LAFARGEVILLE — When losing a few pounds ahead of summer turned into dozens, Scott D. Whitmore, a 40-year-old state trooper stationed in Alexandria Bay, knew something was off. Still, he didn't think he had Hodgkin's Lymphoma or that it was entering Stage 4.
Mr. Whitmore has been a trooper on the road patrolling five townships in Jefferson County for 14 years.
Community members describe him as a kind, laid-back trooper who is easy to talk with. His family would describe him as private, humble, dedicated to his job and funny. Other officers who know him describe him as a cop's cop.
"He's a commonsense, no nonsense guy in a world lacking sense," said Ben Timerman, a detective with the county sheriff's office who was close friends with Mr. Whitmore in high school. "He knows how to get the job done right. He's a big SOB, too, so you want him on your side if things go haywire."
Mr. Whitmore says the north country is a great area for community policing, of which he is a big proponent. His philosophy is to treat everybody with respect, and he hopes if there is any takeaway it's that state troopers are humans, too, with families who have a job to do.
Several years ago, Mr. Whitmore was on duty one night when he saw an orange glow in the distance. Knowing it was out of place, he drove toward it to find a house fully engulfed in flames. An elderly couple woke up after he and his partner banged on the windows to see if anyone was inside, and he pulled the couple out. Turns out the husband he saved was a World War II veteran. It made him proud to be able to help save the life of a person he says belongs to the Greatest Generation, instead of the usual Narcan dose he gives to overdosing subjects.
The rescue earned him the Brummer Award, which has been given to 87 troopers since it was established in 1968 and recognizes valor, heroism and outstanding performance. It's one of the highest honors in law enforcement.
But those who know him would say he'd much rather be in a diner or corner store drinking coffee and chopping it up with the locals than be at an award ceremony.
That's why the employees at the Sunoco in Clayton — where he often stops during a shift — recently put out a donations jar to raise money for him and his family. The jar raised around $250 in just a few weeks, and while Mr. Whitmore is appreciative, the money will likely be donated to a local fire department or rescue squad.
Before the diagnosis
It was spring when Mr. Whitmore decided he would lose a few pounds. He's not an unhealthy eater nor a dieter. He's somewhere between, but it was that time of year to shed a few.
It worked, whatever he thought he was doing.
"At first I was like 'This is great,'" Mr. Whitmore said this week, sitting at a table in Stacy's, one of his favorite diners in LaFargeville. "This diet is awesome."
A few months went by and Mr. Whitmore knew he was losing too much. He had a doctor's appointment coming up at the end of May anyway, and it didn't hurt that he just started vacation the week before.
In short order, normal chores around the house became exhausting. Also, he had lost 40 pounds since January.
His blood was tested at the appointment, which found that he was lacking iron, commonly referred to as anemia. A CAT scan was ordered and results showed the enlarged lymph nodes mostly in his spleen and chest area.
It took around a week for Mr. Whitmore to be diagnosed with Stage 4 Hodgkin's Lymphoma.
The American Cancer Society estimates there will be 8,480 new cases of Hodgkin's in 2020, with around 970 deaths as a result. The five-year survival rate for patients with Hodgkin's is around 86 percent. The number is lower for those with Stage 4, but even then it's still treatable and can be cured.
Doctors told Mr. Whitmore that Hodgkin's is one of the few cancers that can be cured when it enters Stage 4.
"So, to me it's just a number," he said. "It's still Stage 4, so I don't know if we caught it early, but we caught it on time I guess."
Entering chemo
Mr. Whitmore didn't have much hair on the top of his head before, so being mostly bald at this point doesn't bother him. He did have a beard that he recently shaved as a preemptive measure.
He's been undergoing chemotherapy for nearly a month, and the only superficial changes about him is that his skin is a shade lighter. Avoiding crowds and wearing a mask everywhere he goes — a rule for most cancer patients — is not gathering him any more attention considering the state of the world right now.
He'll have to travel to Syracuse twice a month for six months to do chemo. There's a separate wing where cancer patients receive chemo therapy, and for Mr. Whitmore it's nearly four hours of sitting in a recliner and having different medications injected through an IV as he reads a book or watches TV. At 40 years old, Mr. Whitmore said he's had nurses tell him he's too young to be going through this. He feels like a kid when he goes in for treatment and most of the people there are using walkers; though he did see a guy there recently who was close to his age, which made him feel better.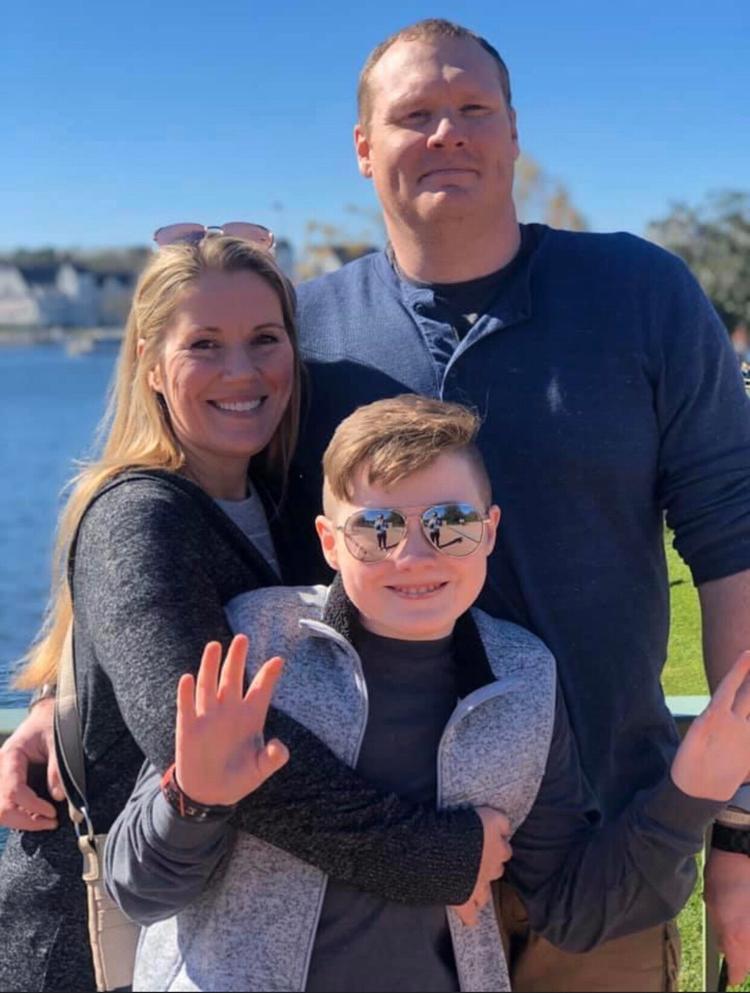 "What I tell people," he said, "is that I'm just getting it out of the way early."
The treatment part of chemo is not the hard part, he said, rather it's somewhat relaxing. The days that follow are when Mr. Whitmore becomes exhausted and confined to a bed. He hasn't experienced nausea yet, but that could be on its way.
Coping with treatment is similar to coping with his job, he said. He's learned to manage his stress as a trooper with humor. He's not treating this with anger.
"I like to make things simple," he said. "Whether you're religious or not, I am. God has a plan. We'll just fight and do what we have to do. If things go good, great. If they don't, I'm prepared."
He's prepared in that his children and wife would be taken care of if he were to die. And his outlook on it has changed over the years of being a trooper.
"I see a lot of it to where I'm kind of desensitized," Mr. Whitmore said. "I don't always agree with it, but if it's your time it's your time."
The nicest person he knows
Carrie, Mr. Whitmore's wife, left the room one day shortly after his diagnosis, leaving him and their children alone for a bit.
"I told them that during this whole time to be nice to mom," he said. "She has the worst of everybody. While I stay in bed, she has to make sure school and everything else is taken care of."
Mr. Whitmore met his future wife in third grade. They started dating in high school and never stopped. He might drive her crazy from time to time, but they've been married for 16 years now and have three kids: Abigale, 15; Liam, 13; and Hailey, 8.
She's a hair stylist and was put out of work in March due to COVID-19. Since she is self-employed and technically running her own business from the chair she cuts hair at, Mrs. Whitmore couldn't get unemployment for over a month. All told she was out of work for around nine weeks. They have savings and she was finally able to receive some financial assistance from the federal government, and she's now back to work.
"She's very good at being a human being," Mr. Whitmore said. "She's on top of everything. I don't know why she's with me, but she's the nicest person I've ever met."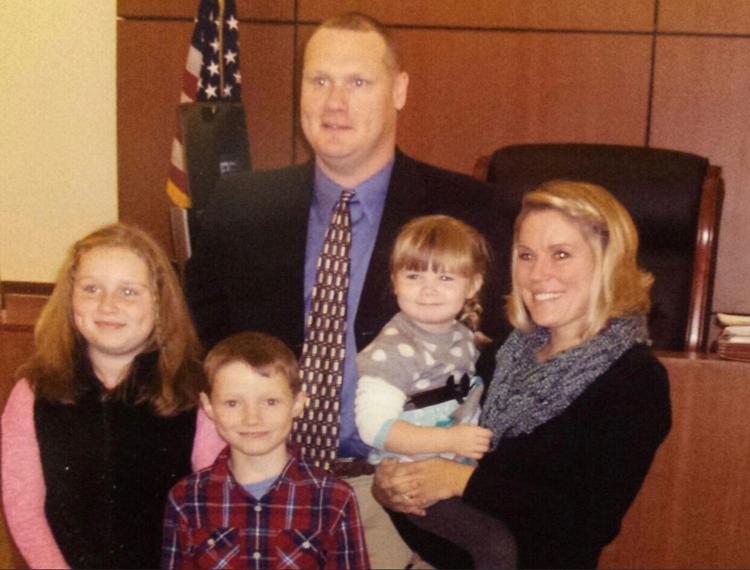 The news of Mr. Whitmore's diagnosis was, of course, shocking. She said she thought her husband had a bleeding ulcer, not cancer.
"I think that God's totally got this and he's going to be fine," she said. "I think he will be back to work."
They decided to tell their kids separately. They were rather blunt about his diagnosis to the two older teenagers and more vague to the 8-year-old.
"We told her Dad might look a little different for a while," she said. "But that he's absolutely still Dad."
All things considered, the process has been somewhat positive. Mrs. Whitmore said it feels like every time there's a setback, the comeback is twice as strong. Just like when Mr. Whitmore got his heart tested to make sure he was eligible for chemo. The first appointment with a heart doctor resulted in it being unclear on whether he would be able to receive chemotherapy, but he got the green light on a follow-up visit.
"I feel like every time anything stressful has come up, God has just laid the path for something better to happen," Mrs. Whitmore said. "Every time we turn around we're just blessed with something new."
Recognition, policing and protests
Every person who participated in this story doubted heavily that Mr. Whitmore would want to speak about his condition.
Maybe he did it out of boredom from being out of work for four months.
When he agreed to sit down at Stacy's, his largest stipulation was that people were to know he doesn't need help.
"I have great friends, family and coworkers," he said. "I have everything I need. I don't want this to turn into a GoFundMe story."
No matter what's happening in the rest of the world, Mr. Whitmore said, he still receives cards, letters, paintings from kids and jars of candy — all thanking him for what he does. Even when the discussion of policing has become more charged with debate, he said the north country's response is to support him and his fellow troopers even more.
"We love it because if you watch the news, everybody hates cops," he said. "But if you go around here, no, it doesn't really affect us up here."
His approach to accolades is to be appreciative but somewhat distant. He said he didn't believe it when he won the Brummer Award.
"Somebody called me to tell me I got it and I basically cursed at them and told them stop," he said. "I hate being the center of attention. I never did anything for awards."
His outlook on recognition is also realizing he is paid for what he does.
"It can be a hard job, but it's the same way with the military," he said. "We love our troops and we have great respect for the military, but when it comes down to it they made that choice and they get paid for it."
Mr. Whitmore wasn't working when riots swept across the country, many of which were protesting law enforcement and calling for the defunding of police. But, again, the north country isn't having the same social issues as metro areas are, he said. There have been a few Black Lives Matter protests in Watertown that have been peaceful and something Mr. Whitmore is all on board for.
"I'm all for protecting you if you want to protest, no matter if I agree with you or not," he said. "Just don't burn down buildings or break into places."
Mr. Whitmore is chomping at the bit to get back to work after chemo. He only has a few more years left until retirement and he's ready to get back to covering Alexandria, Orleans, Clayton, Cape Vincent and Theresa.
He hopes people believe him when he says most law enforcement officers don't take their jobs personally.
"If we did, we would probably die of a heart attack pretty quickly," he said. "We're not out to get anybody. We don't just show up to houses and say 'Hey, you guys having a domestic tonight?' No, we're called there."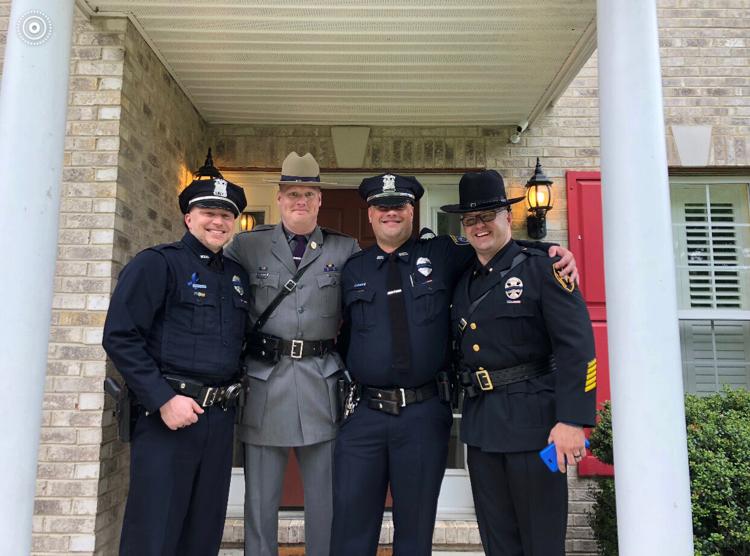 The donation jar
The story really begins with the donation jar at the Sunoco in Clayton.
Jeff Burns, who manages the store, said Mr. Whitmore comes in for coffee and conversation during most of his shifts. When they heard of his diagnosis, the whole team there came up with the idea of putting out a donations jar, with a note taped to it explaining what had happened to Mr. Whitmore. It has raised around $250 so far, which is ready to be delivered to his family. Mr. Whitmore said he would likely donate the money to the Thousand Islands Emergency Rescue Service, Clayton fire or LaFargeville fire. And Mr. Burns said that's fine by them.
"The point is he's a great guy and that's why we did it," Mr. Burns said. "He's great to get along with, no matter who he's talking to. And that goes along with all the other cops around here. They do the same thing, and we try to take care of our locals."
https://www.nny360.com/communitynews/healthmatters/longtime-state-trooper-in-lafargeville-diagnosed-with-stage-4-hodgkin-s-lymphoma/article_28caf18c-c8de-55e2-a118-ef8cd2ddab1a.html