'Only if he/ she could have reached out to us'. 'We were just a phone call away'. 'Why aren't people vocal about their feelings?' 'Why would you be depressed if you are financially stable?'
Amidst the 'could have should have' theories, some of us actually mean well but those suffering from depression are unable to communicate says Shaheen Bhatt, whose book 'I've Never Been (Un)Happier' follows her personal battles on surviving depression. We spoke to Shaheen a while ago to understand what depression actually means. In a conversation with us a while ago, Shaheen Bhatt spoke about what it means to be depressed, how people can help in such situations and the need to normalise the conversation. Excerpts:
It becomes increasingly difficult for someone with depression to reach out for help. How can one help that person in this situation?

One of the distinguishing factors of depression is that it restricts your ability to effectively communicate. It curbs your ability to love and be loved. Ironically, you need this the most when you are going through depression. I don't want to pretend that I have it all figured out. Even today, if I am having a bad day, I find it hard to talk about it. All you can do as a loved one or a family member is to be present and assure the person that you are there for them. That's what my family does for me. It's also very important to consult professionals if you think that someone you know is going through something. I am not a psychologist, psychiatrist or in a position to give advice. The only thing I know is from my experience. As someone who has faced depression, it helps to have an awareness that someone is there for you- someone to talk to, someone who makes you feel like they care.
A lot of people are yet to come to terms with the fact that mental illness is a matter of concern and needs attention. Many tend to disregard it as a fad and say that it never existed in our parents' generation.
The only way to acknowledge or normalise something, is to have a conversation, no matter how uncomfortable it gets. I often get asked this question in context to corporates dealing with mental health issues of their employees. It's important for people in position of power to talk about their mental health struggle. If you lead by example, people will feel comfortable talking about it. Unfortunately influential people rarely talk about it much. There are people like Deepika Padukone, who have spoken about it but the examples are few. Depression and mental illness have always been around. With more people, social media and regular communication, we hear about it more now, than before.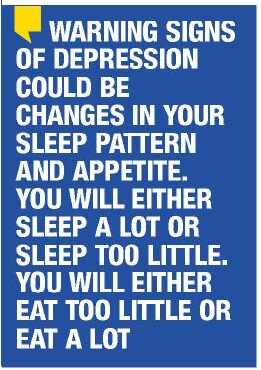 'He/she had money, love, fame, success… why were they depressed!?' You often hear arguments like these. What would you say about that?

One of the things about depression is that it's incredibly hard to pinpoint why a person is depressed. When there's no severe financial loss, grief, stress, major upheaval, it's hard to find the cause. It's a chemical imbalance that can be caused by so many things. It can be medication, lack of sleep. For me it was a chemical component that kicked it off, but it progressively became more psychological. Statistics show that every person, at some point in their life and for some reason, is most likely to face some version of mental illness to a certain degree. Like physical ailments, mental illness needs care too.
In a candid post, Shaheen spoke about being depressed. Check it out:




While it depends on person to person, what are the warning signs of depression?
Major warning signs of depression could be changes in your sleep pattern and appetite. You will either sleep a lot or sleep too little. You will either eat too little or eat a lot. In my case I started binge eating and slept very little. I had terrible insomnia. Persistent low mood that stays for at least two weeks is another warning sign, as is loss of energy. For instance, you can't get out of your bed for days, can't focus, and lose interest in things that you loved doing. Trust your instincts. If you feel something is wrong, something could be wrong. It's always worth investigating.
https://timesofindia.indiatimes.com/entertainment/hindi/bollywood/news/depression-curbs-your-ability-to-love-be-loved-and-communicate-shaheen-bhatt/articleshow/78803902.cms