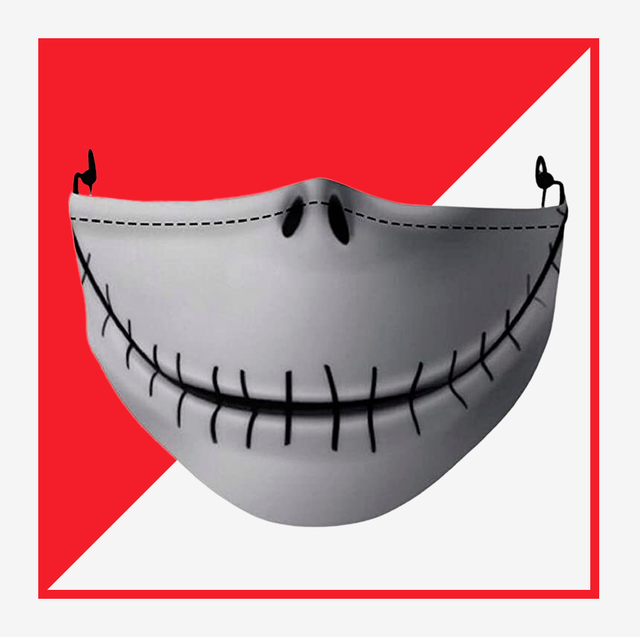 amazon.com
Holidays look different this year. Well, everything looks different this year. The events of 2020 have totally thrown off our resolutions, vacation plans, and the most obvious—social traditions. While we have pivoted in just about every category of life this year, Halloween follows suit. But that doesn't mean you can't dress up and get in the spooky spirit. While you might not be attending that rager Halloween party you look forward to, or planning coordinating costumes with your girlfriend and bros, there still are ways to celebrate the festive October event that abides by The Centers for Disease Control and Prevention's guidelines to prevent the spread of the coronavirus.
Unlike other holidays, cloth face masks actually work well with the Halloween spirit. And it's not too late to shop (thank you Amazon Prime). These Halloween-themed face masks are the lazy-but-acceptable answer to your costume dilemma this year. Whether you're running errands on the 31st, attending a small pumpkin-carving gathering, or simply walking around the neighborhood, these face masks will make this year's Halloween feel a little more special. And don't worry, we've done all the fact checking to ensure they will arrive before the 31st. Order your CDC-approved, last-minute Halloween face masks in the next few clicks.
Advertisement – Continue Reading Below
Safe + Mate x Case Mate Cloth Face Mask
This best-selling, top-reviewed Amazon face mask might not be for a committed costume, but it celebrates the fun and spooky spirit of Halloween. It will get the kids excited and show that just because parties are cancelled, that doesn't mean Halloween is.
Halloween Print Masks
Do you ever notice that when someone wears a mask resembling a face, you do a double take? That's what you'll get with these, but make it scary. Choose from an evil clown, a creepy Jacko lantern, Chewbacca, or surprise yourself with the "anonymous choice."
iHeartRaves Neck Gaiter Face Cover Scarf
This mask might look and feel a little different (it's actually a neck gaiter), but it's still CDC-approved. Plus, it looks like you put in a little more effort. Complete the look by dressing in all black.
Tatuo White Skeleton Long Gloves and Skull Face Mask
Or, take it a step further with a neck gaiter/gloves combo. It will take your costume and protection to the next level.
Taloyone Neck Gaiters Face Bandana With Earloops
A cowboy is always a safe and easy costume choice and we fully support it, especially if you're channeling Diplo. While it usually requires a bandana, this mask takes it a step further with ear loops to cover your nose and mouth.
Gootrades Set of 4 Teeth Pattern Masks
Keep it simple with these breathable teeth-print face masks. They are effortless and cool with a streetwear vibe, meaning you can wear them well beyond Halloween (we picture an all-black outfit with killer kicks). Plus, according to the near perfect reviews, these are lightweight and comfortable on the skin, making them fashionable and functional for this year's Halloween.
Tsyllp Unisex Adult Face Bandana With Ear Loops
Come to think of it, we should have been using face masks and neck gaiters for Halloween years ago. These face and neck coverings save the mess and time of sticky makeup, but still serve a killer look.
Anroog Halloween Alien Mask for ET
Go big or go home with a full head covering alien face mask. Sure it covers your nose and mouth to help stop the spread of COVID-19, but it also offers high-definition gradient glasses for clear (but trippy) alien vision.
This content is created and maintained by a third party, and imported onto this page to help users provide their email addresses. You may be able to find more information about this and similar content at piano.io
Advertisement – Continue Reading Below
https://www.menshealth.com/trending-news/g34482941/halloween-face-masks-coronavirus/